Frederic Glyn, 4th Baron Wolverton (1864-1932),
as
King Richard, Cœur de Lion (1157-1199)

Following in steps of his predecessors, Lord Wolverton worked for the private bank Glyn, Mills, Currie & Co, which had been founded in 1753 by his great-grandfather, Sir Richard Glyn.
In 1890, when Lord Wolverton was its senior partner, the bank played a major role in preventing the collapse of Baring Brothers, thereby saving a number of London's financial institutions from ruin. In 1939, Glyn, Mills was acquired by the Royal Bank of Scotland, but continued to trade separately, later as Williams & Glyn, until 1985.
In his private life, Lord Wolverton, who was keen on all kinds of sport, was also an enthusiast of the turf and a racehorse owner. He became a steward of the Jockey Club in 1913.
In keeping with the patriotic choice of costume of his wife, the banker, courtier and sportsman, Lord Wolverton dressed himself as King Richard the Lionheart (usually known by his French epithet) – the famed crusading king of England whose territories at the time included much of France. He spent little of his reign in England and died in France as the result of a wound from a crossbow bolt.
Lord Wolverton wears appropriately the robes of a Knight Templar - a military order founded in the 11th century to protect pilgrims on their way to and from the Holy Land. His character was much the stuff of legends and romantic novels – including Sir Walter Scott's 1819 novel Ivanhoe.
Wolverton's choice of costume may have been inspired by a trip he made with a friend five years earlier to Somaliland, where they shot between them 17 lions – a great hunting feat of the time and one which certainly led to him being known amongst his peers as something of a lion-killer.
His costume was made by the theatrical costumiers, J. Simmons & Son, of Haymarket, London, and the armour is identical to that worn by Lord Ampthill as a Knight of King Arthur's Round Table. The chain-mail body suit and steel helmet must have been a particularly uncomfortable choice of costume for a party.
Click on image to enlarge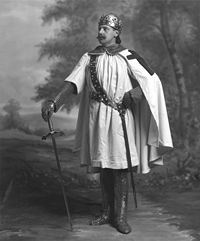 V&A Lafayette Archive
Negative number: L1590
26-11-1897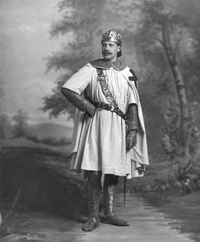 V&A Lafayette Archive
Negative number: L1590a
26-11-1897