Arthur Oliver Villiers Russell,
2nd Baron Ampthill (1869-1935),
and
Lady Ampthill,
née Lady Margaret Lygon (1874-1953),
as
"a Knight and Lady-in-Waiting of King Arthur's Round Table"

Arthur Oliver Villiers Russell, 2nd Baron Ampthill was born into a family of diplomats – both his grandfather and father distinguished themselves in foreign service.
After six years as private secretary to Joseph Chamberlain at the Colonial Office, he was appointed, aged only 31, Governor of Madras (1900-1905) and was temporary Viceroy of India in 1904, covering Lord Curzon's leave. Until his death he persisted in his argument that it was Britain's failure to treat Indians equally as British subjects that had fired the Indian independence movement. He was also a prominent freemason and held a position of pro-grand master until his death. Always a great sportsman, he was also a brave soldier, who was twice mentioned in dispatches during the Great War.
His wife, who was a daughter of the 6th Earl of Beauchamp, another remarkable diplomat, was a long-life friend of Queen Mary, serving as her Lady of Bedchamber since 1911.
The couple's decision to clothe themselves as nobles from the Arthurian period of the 7th century lay in the popularity enjoyed at the time by stories of King Arthur's court – overlaid, naturally, with such rigorous morality that even Queen Victoria was inspired to name her seventh son Arthur. The myths surrounding King Arthur's court also gave rise to a wealth of poetry, story-telling and painting on the subject and Arthur was seen as a quintessential English hero even though historians still argue as to whether he is a historical or mythical character.
As a Knight of King Arthur, Lord Ampthill, who In his youth was termed "a remarkably handsome man of splendid physique and great personal charm" – wears a white surcoat, with three lions rampant embroidered in scarlet, chain armour on the arms and legs and a steel helmet. The costume is obviously anachronistic and is almost identical to that worn by Lord Wolverton as King Richard I from a period six hundred years later!
Lady Ampthill, as a Lady-in-Waiting to King Arthur – a role mirroring her own position at court, wears a similarly medieval gown of green satin over an underdress of silver satin brocade. Under her tiara of diamond pansies she wears a long veil of white gauze. Both Lord and Lady Ampthill's costumes were supplied by the theatrical costumier, J Simmons & Sons of Haymarket, London.
Click on image to enlarge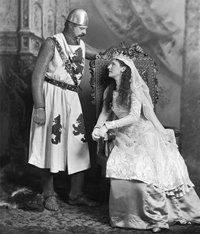 V&A Lafayette Archive
Negative number:L1342
03-07-1897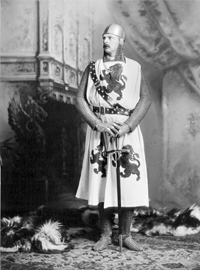 V&A Lafayette Archive
Negative number:L1345
03-07-1897