Ten years after the abolition of the "Red Flag Act", The Illustrated London News published a humorous drawing celebrating the famous action of a Mr Harry Heweston. The "Red Flag Act", as the Locomotive Act of 1865 was known, set speed limits of 4 mph (6 km/h) in the country and 2 mph (3 km/h) in towns. It also stipulated a man with a red flag should walk 60 yards (55 meters) ahead of each vehicle to warn horse riders and horse drawn traffic of the approach of a self-propelled machine.
After buying a 3 hp Benz in Germany, Heweston went out in the motor car in his home town of Catford with a small boy and upon receiving a report of a policeman ahead, set the boy out of the car to carry out the letter of the law. Ironically the flag was a tiny scrap of red ribbon on a lead pencil!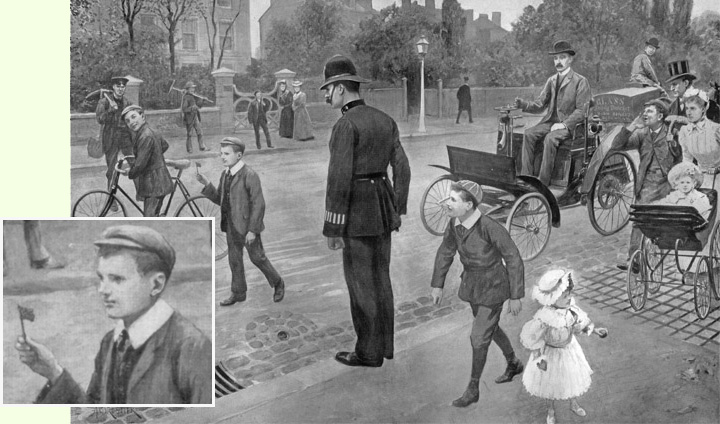 The Illustrated London News, 17 November 1906
The "Red Flag Act" was replaced on 15 November 1896 by The Emancipation Act, which allowed speeds of up to 14 mph (22 km/h). The abolition of the Red Flag Act was celebrated by the London to Brighton Car Run, which is now the world's oldest car event.
Unlike horses, motor cars were subject to breakdown. In fact, in the early days of motoring, it happened so often, that the father of Hon. Rupert Guinness had two vehicles kept on his Elveden Estate. Whenever his royal guest, the King Edward VII, travelled in one, "it was followed by another which took over when the first broke down."