Queen Victoria (1819-1901)

The Queen Empress dressed only in black after the death in 1861 of her beloved Prince Consort, born Prince Albert of Saxe Coburg and Gotha. In this image, Queen Victoria faces a small framed photograph - a standard device in all images of her during her widowhood - of her husband, who had died more than 25 years earlier. The small image of the Prince is a carte-de-visite probably by the leading early London portrait photographer Camille Silvy and made in the last year of the Prince's life.
Prior to widowhood, Victoria, and by extension the whole court, had enjoyed costume balls as a regular and highly extravagent form of entertainment. Tableaux vivants also captured the royal imagination with photographers summoned to capture and register the images for copyright with greatly detailed descriptions such as "Photograph of Tableau Vivant 'India' XXXI, including portraits of Princess Beatrice, Princess Luise, Princess Alice, Sheikh Mahomed Bukhs, Hafiz Abdul Kareem, Seyd Ahmed Hussain and Khaisat Ali" – here the list of names, which included Queen Victoria's favourite Indian servants, proving that during a masque the player's status is obfuscated by his act of impersonation.
In this portrait, made for her Golden Jubilee in 1887, the Queen wears Court dress – a bodice and train of black silk damask, tulle overskirt, edged with ruffles and embroidered with jet.
Preparations for the Diamond Jubilee of 1897 started six years earlier at which time the Queen threatened to cancel the celebrations should she be forced to contribute to the costs. The Queen's preference prevailed and the Diamond Jubilee Celebrations were paid for from public funds.
The Queen took little part in the Empire-wide celebrations of her reign and indeed, for many years "Her personal contact with her subjects was so rare that it was practically non-existent." Whether she was indeed too frail to attend the Duchess of Devonshire's costume ball is an academic question, as the Queen disapproved heartily of London society with its fast ways. She even referred to members of her own extended family as the "royal mob" when they gathered in numbers.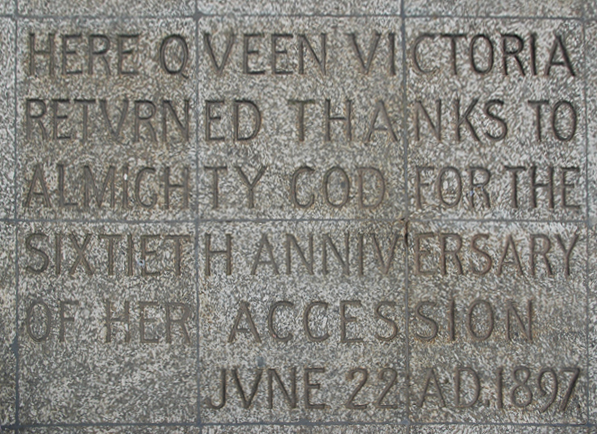 Inscription in the pavement
in front of St Paul's Cathedral
A moving film of the jubilee procession to St. Paul's Cathedral on 22 June 1897 by the British film pioneer, Robert W Paul (1869-1943), was the first cinematographic record of a major royal event and just one of the 20 film companies which covering the event with up to 40 cameramen recording the procession from Buckingham Palace to St Paul's Cathedral and back.
Having done her duty for country and empire, letting herself be seen in public for a thanksgiving service at St. Paul's cathedral, and while the country's press worked itself up into a paroxysm of pictorial and verbose adoration, Queen Victoria chose not to attend the Duchess of Devonshire's Ball and her eldest son and heir, Edward, Prince of Wales and his wife, Alexandra, Princess of Wales, represented her at the Ball.
Click on image to enlarge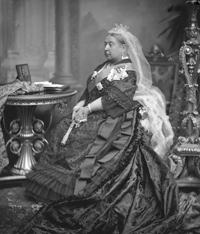 V&A Lafayette Archive
Negative number:0008
1887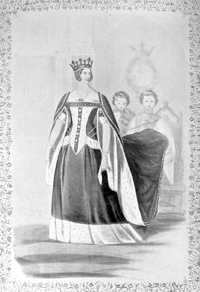 In her younger years, the Queen had enjoyed dancing and organised bal masqués, the first being the Plantagenet Ball in 1842 at which she appeared as Philippa, the Queen Consort of King Edward III.
Image reproduced in The Ladies' Realm, 1897.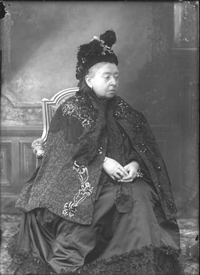 A Portrait of the Queen by Lafayette, published in May 1900 shows the queen in her long-time "widow of Windsor" pose.