Miss Violet Keith Fraser,
later Countess of Stradbroke (d 1949),
as
Delilah,
John George Stewart-Murray, Marquis of Tullibardine,
later 8th Duke of Atholl (1871-1942), and his brother
Lord George Murray (1873-1914),
as
"Highland Gentlemen A.D. 1745"

In this odd juxtaposition of characters, Miss Violet Keith Fraser is seen in the photographer's tent on the night of the Ball with the heir to the Dukedom of Atholl and his younger brother Lord George Murray.
All three were unmarried in 1897. The future Duke of Atholl was to have a very distinguished future in the military, politics, public affairs, the church and business. Ms Keith Fraser was to marry the 3rd Earl of Stradbroke a year later. Lord George Murray, also a soldier, was killed in action in 1914.
As the sons of a Scottish aristocrat, and soldiers in the 3rd Battalion Royal Highlanders, the brothers appear to be expressing their Scottish patriotism by dressing in costume of the 18th-century when followers of the Stuart dynasty, including their direct ancestor, were trying to remove the protestant Hanoverians from the throne of England.
Although Delilah was well-known figure from paintings (including canvases by Van Dyck and Rubens), Ms Keith Fraser's choice of role may well have been influenced by the popularity of the opera Samson et Dalila by Saint-Saëns, which had been seen in the opera houses of Europe after its first success in Paris 1890.
Her costume appears to be modelled on that worn by Delilah as Samson brings down the temple of Dagon. She wears a Queen Alexandra-style diamond choker and a stylized lotus-leaf diamond necklace. Her costume was described in the press as:
"a beautifully embroidered robe of mauve crêpe de Chine embroidered in Oriental colours, a gold sash encrusted with jewels, and scarlet drapery falling from the shoulders at the back; her headdress was of silver, with wings at the side."
In the triple portrait, retouching preparations have been made to remove the background perhaps in order to create a vignette of Miss Keith Fraser with her two dashing officers
Amour, viens aider ma faiblesse!
Verse le poison dans son sein!
Fais que, vaincu par mon adresse,
Samson soit enchaîné demain!


O love! From thy pow'r let me borrow!
Pour a poison in his heart!
Grant that this Samson fall tomorrow,
a slave, a captive to my art.



Samson et Dalila

, Act II, by Camille Saint-Saëns
libretto by Ferdinand Lemaire
first performed 1890
Click on image to enlarge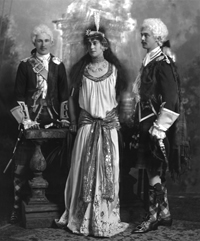 V&A Lafayette Archive
Negative number:L1431
03-07-1897
Click on image to enlarge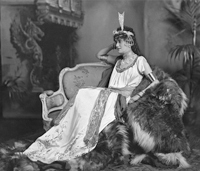 V&A Lafayette Archive
Negative number: L1359
03-07-1897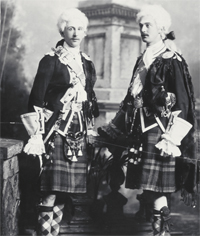 V&A Lafayette Archive
Negative number:L1429
03-07-1897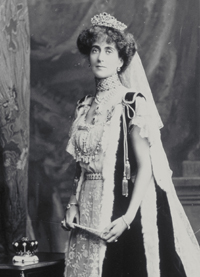 The Countess of Stradbroke
detail from:
V&A Lafayette Archive
Negative number:L3371
11-08-1902