Duchess of Roxburghe,
née Lady Anne Emily Spencer-Churchill (1854-1923),
as
Bess of Hardwicke (1518-1607/8)

The dowager Duchess of Roxburghe took part in the highly popular Elizabethan Procession at the Ball.
As a widow and an extra Lady of the Bedchamber to Queen Victoria, it must have seemed a humorous choice for the companion to the arbiter of Society's moral values to appear as Bess of Hardwicke, the much married, pearl-loving and scheming rival of Queen Elizabeth I of England who was suspected of helping her husbands to an early grave!
The costume, made by Mrs Mason of New Burlington Street, exuded the riches which Bess had amassed from her husbands' estates. In this personification Bess wears a black velvet gown whose white satin front is embroidered with pearls. The white satin squares on the sleeves are edged with pearls, as is her black velvet cap. The costume, finished off with a large Medici collar and copious amounts of pearls and jewels on the bodice, conveys the royal ambitions of Bess.
The fan held by the Duchess came from Rio de Janeiro. These fans were imported to Europe in large quantities in different shapes and sizes, but always with the addition of a little stuffed humming-bird perched among the other feathers.
Although it was the bottom portrait, made at the Ball itself, which was approved for publication in the Album, the Duchess went back to the Lafayette studio on 22 July to have a second session in costume in which she looks full face at the camera, but it is obvious that the earlier portrait is the more successful. In the portrait reproduced uncropped here, the edge of the baronial backdrop is clearly visible as well as a wooden beam shoring it up.
"Four times the nuptial bed she warm'd,
And every time so well perform'd,
That when death spoil'd each husband's billing,
He left the widow every shilling.
Horace Walpole, From a letter to George Montagu, 1 September 1760
Click on image to enlarge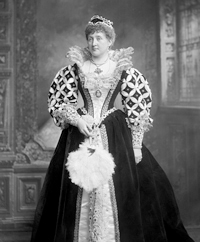 V&A Lafayette Archive
Negative number: L1481
27-07-1897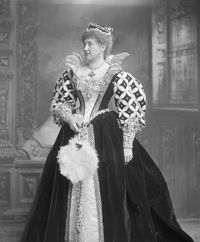 V&A Lafayette Archive
Negative number: L1481a
27-07-1897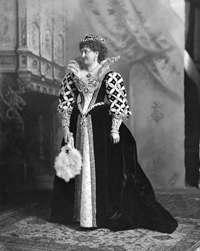 V&A Lafayette Archive
Negative number: L1428
03-07-1897