Violet, Countess of Mar & Kellie,
née Ashley-Cooper (1868-1938),
as
Dante's Beatrice, and
Lloyd Tyrell-Kenyon, 4th Baron Kenyon (1864-1927),
as
Guido Cavalcanti

Photographed appropriately together as part of the Italian procession the Countess of Mar & Kellie and Lord Kenyon personified Dante's muse Beatrice (usually identified as Beatrice Portinari, the daughter of a noble Florentine family, who died at the age of 24 in 1290) and Dante's mentor Guido Cavalcanti (c 1255-1300).
From the middle of the 19th-century, poems, songs and operas dealing with Beatrice started to appear in England, France and Italy and as recently as 1890 Benjamin Godard's four act opera Dante et Béatrice was playing at the Paris Opera.
The Countess of Mar & Kellie, who was photographed twice in the photographer's tent at the Ball with men other than her husband wears a robe of old velvet brocade with tight-fitting sleeves with large balloons of silk muslin at the shoulder. The overdress is white Sicilian silk with very fine embroidery of pink and gold. The overdress is laced on both sides with silver cords studded with pearls. On her head she wears a small cap of green velvet, embroidered with gold and studded with pearls as well as a small pearl bandeau, a small crown of gold, and a long veil of mousseline de soie.
Lord Kenyon wears an ermine-edged doublet of pale mauve silk, with large open sleeves, fastened with a gold ornament just below the shoulder. The breast of his doubled is embroidered with gold. He wears a cap of rose-coloured silk bound with a broad band of ermine and an aigrette held in place with a large jewel.
In their private lives, the Countess of Mar & Kellie, who was the 4th daughter of the 8th Earl of Shaftesbury, became a prominent hostess and a dedicated activist for the Red Cross. Her son, Lord Erskine, was Governor of Madras between 1934 and 1940. Baron Kenyon, a Welsh landowner, distinguished himself in public duties in Wales, and was also a lord-in-waiting to Queen Victoria, King Edward VII and George V.
sovra candido vel cinta d'uliva
donna m'apparve, sotto verde manto
vestita di color di fiamma viva.

That, under a mantle green, a Lady came
enwreathed with olive over a white veil,
And robed in colour of the living flame.
Dante, Purgatorio:

Canto XXX

, early 14th century
Click on image to enlarge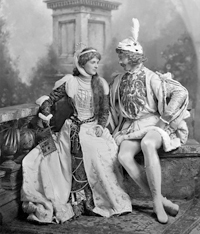 V&A Lafayette Archive
Negative number: L1396
03-07-1897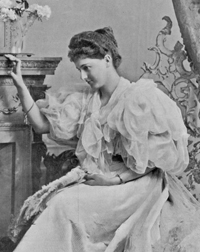 The Countess in 'civilian' outfit, exemplifying the short-lived vogue for swathes of chiffon drapery which in 1896 was at its height [detail of a portrait from The Queen, 19 September 1896].