Lady Lurgan, née Emily Julia Cadogan (1871-1909) [left],
and Lady Sophie Scott, née Cadogan (1874-1937) [right],
as
"Furies" – Alecto and Megæra

Both ladies were the daughters of the 5th Earl Cadogan, Lord Lieutenant of Ireland from 1895 to 1902.
The elder, Emily, in 1893 married 3rd Baron Lurgan, whose predecessors are credited with establishing the linen industry in Northern Ireland. The couple later moved to London, where Baron Lurgan held directorships in many public companies and in 1925 became chairman of the Carlton and Ritz Hotels.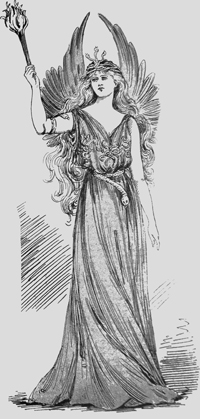 Lady Scott as depicted by

The Queen

on 19 July 1897, with "diamond wings" not worn for the photographic portrait.
Sophie married in 1896 Sir Samuel Scott, 6th Bt, a soldier and politician, who later presided over the International Association of the Promotion and Protection of Trade.
The sisters dressed for the Ball most impractically as two of the personifications of vengeance, known to the Romans as "the Furies."
Taking their costume components from Dante's Inferno, they commissioned the costumer, Mrs Mason of New Burlington Street, to create "classical draperies" with hanging sleeves of crimson gauze shot with gold. For Dante's "waists cinctured with green hydras", they wore girdles of jewelled serpents with emerald and ruby eyes. Where the Inferno states "For hair they had horned snakes and poison adders", they wore jewelled serpent head-dresses. or as The Queen stated: "they were wreathed around the head with reptiles".
To finish off the outfits they wore serpent armlets and carried torches burning with electric light – although in this portrait flames have been added by the retouching department. Lady Maud Warrender, in her memoirs written over three decades later, still could not help giving a little sneer about the two ffuries that evening wore "hair nets to keep their heads tidy."
The furies, malevolent spirits from the underworld, were famously apostrophised in John Dryden's 1679 play, Œdipus:
Hear, ye sullen powers below:
Hear, ye taskers of the dead.
You that boiling cauldrons blow,
You that scum the molten lead.
You that pinch with red-hot tongs;
You that drive the trembling hosts
Of poor, poor ghosts,
With your sharpened prongs…
Œdipus, Act III, John Dryden, 1727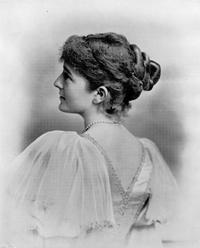 Lady Sophie Scott in a portrait by Lafayette, published in Country Life on
7 May 1898.
This would appear to be her favourite profile, being almost identical to the way she stands for her portrait in costume some ten months earlier.
Click on image to enlarge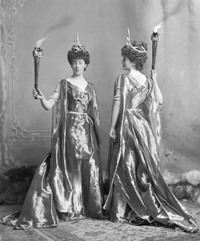 V&A Lafayette Archive
Negative number: L1472a
20-07-1897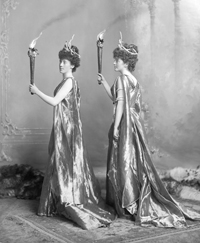 V&A Lafayette Archive
Negative number: L1472
20-07-1897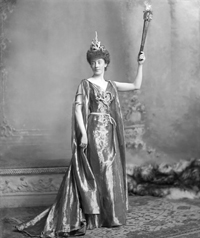 V&A Lafayette Archive
Negative number: L1472c
20-07-1897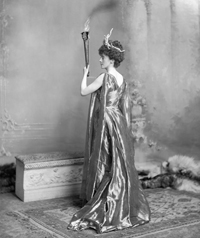 V&A Lafayette Archive
Negative number: L1472b
20-07-1897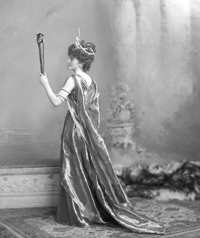 V&A Lafayette Archive
Negative number: L1474a
20-07-1897