Mrs William (Willie) Dodge James,
later Mrs John Chaytor Brinton,
née Evelyn Elizabeth Forbes (1868-1929),
"in costume of period of Henry II" (1519-1559)

Mrs James led a life typical of the super-rich in the late Victorian and Edwardian periods. The colossal house parties, complete with private orchestra, which she gave at her enormous Sussex property, West Dean House, were often attended by Edward VII, both as Prince of Wales and later as King. As described by her son James, she was an aloof mother, a quality which he illustrated by recounting that one Sunday, as she was getting ready for church she called to a servant to prepare one of her children to accompany her. "Which one?" the nanny asked. "Whichever goes best with my blue dress" was the response noted by her son.
She appeared to have no fear of convention, and, in 1896, was reported to have bicycled through the night with twenty-three of her house guests to watch the sun rise over the Downs. One of the male guests had to offer his jacket to stop her from freezing, as, it was noted, she was wearing "next to no clothes."
Having grown up at Castle Newe near the royal Balmoral estate in Scotland, Mrs James was appreciated by King Edward until his last days. He was godfather to her son Edward who later in life claimed that he was the grandson of Edward VII, the result of an affair between the then heir to the throne and Mrs James's mother, Lady Helen of Newe.
Mrs James was on good terms with other important women friends of his life – Daisy, Countess of Warwick and Daisy, Princess of Pless – with whom Mrs. James had acted as one of the Ugly Sisters in a performance of Cinderella for the King and Queen during a house party in January 1904 at the Duke of Devonshire's residence, Chatsworth House. The Times soberly reported of the occasion that "some dancing by Mrs. Willie James and Princess Henry [Daisy] of Pless is a feature of the entertainment."
In this image, made in the photographer's tent during the Ball, Mrs James's costume appears to be modelled on Vigée le Brun's 1785 portrait of Marie Antoinette à la rose. This might be an indication that she had to rename herself and join a different quadrille upon discovering that Daisy, Countess of Warwick, had spontaneously re-cast herself as Marie Antoinette.
The costume, by Maison Lucile of Hanover Square (actually the leading fashion designer Lady Duff-Gordon), is made of stiff silver tissue, over an underdress of antique cerise taffeta. The long pointed corsage is trimmed with point lace entwined with roses in pale pink which also appear over the entire gown. Her bodice is studded with diamond broaches of various motifs including a large sun-burst broach. She wears a six-row pearl choker as well as long strands of gradated pearls and nestling in a bed of silk roses in her hair is a diamond spray in the form of ostrich feathers of the Prince of Wales's crest.
There will be bridge and booze 'till after three
And, after that, a lot of them will grope
Along the corridors in robes de nuit,
pyjamas, or some other kind of dope.
A sturdy matron will be sent to cope
With Lord ---, who isn't quite the thing,
And give his wife the leisure to elope,
And Mrs. James will entertain the King!
Hilaire Belloc (1870-1953)
Click on image to enlarge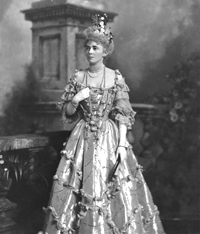 V&A Lafayette Archive
Negative number: L1426
03-07-1897