Marquise d'Hautpoul de Seyre,
née Hon Julia Caroline Stonor (1862- 1950),
as
Elsa in Wagner's Lohengrin

The Marquise was a maternal granddaughter of Sir Robert Peel, a distinguished twice-serving British Prime Minister. Her mother, despite marrying a Catholic, was a favourite of Queen Victoria, and held the position of Lady of Bedchamber to the Princess of Wales (later Queen Alexandra).
Both parents died when Julia and her two brothers were young, and the children were brought up in the household of the Prince and Princess of Wales. Julia's brother was a courtier to Queen Victoria and later to Kings Edward VII, George V and George VI. Equally loyal in her devotion to the royal family was Julia, who became a constant companion to the future King George V and Queen Mary.
In 1891 she married the Marquis Pierre Henri Louis Leopold Fernand d'Hautpoul de Seyre, who, upon obtaining British citizenship, was granted a royal licence allowing him to use his foreign title. He died in 1934 at the Hyde Park Hotel, of which he was a director.
The costume Julia wore to the Ball is an exact copy of the bride's costume worn in by the Belgian soprano, Rose Caron, as Elsa in 1892 in Wagner's opera Lohengrin. Her robe is of old white silk, covered with gold embroidery. The cloak is white silk, embroidered with gold, rubies and pearls. The Marquise wears a coronet surmounted with large pearls.
The Marquise's brother, Sir Harry Stonor, was in the same procession - dressed as Lohengrin himself.
Treulich geführt ziehet dahin,
wo euch der Segen der Liebe bewahr'!!

Guided in faith, enter within,
where may the blessing of love attend you!


Lohengrin, Act 3, Scene I First performed 1850
Click on image to enlarge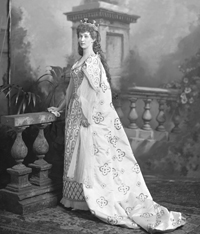 V&A Lafayette Archive
Negative number:L1360
03-07-1897