Mrs Claud George Cole-Hamilton,
née Lucy Charlewood Thorold (d 1941),
as
Amy Robsart (1632-1560)

Married in 1893 in Biarritz to Claud George Cole-Hamilton, a minor aristocrat whose career involved front-line action in the military and later in public service, Mrs Cole-Hamilton chose to impersonate a Devonshire-born character from the Scottish author Sir Walter Scott's great romantic novel Kenilworth, published in 1821.
Amy Robsart had the misfortune to have been born rich, not overly beautiful, and to be married to Lord Robert Dudley, a particular favourite of Queen Elizabeth I. A retiring woman, who never appeared at Court, Amy was found conveniently dead by her servants in the hall of her husband's rented house near Oxford.
The mysterious circumstances of her death inspired novels, paintings and even a full length opera by the English composer Isidore di Lara - performed at Covent Garden in 1893 and Monte Carlo the following year with the world's leading sopranos playing the role of Amy Robsart in the now forgotten opera of the same name.
In her portrayal of this tragic heroine, Mrs Cole-Hamilton wore a court dress from the period of Queen Elizabeth I, consisting of a gown of pink brocaded silk, spangled with silver and studded with pearls down the front. She completed the impersonation with a large pointed stand-up collar, a silver pearl girdle and a long veil of white. Her pointed cap of silver and pearls is an exact copy of that seen on the statue of Amy Robsart by the Scottish sculptor William Brodie which can still be seen on the Walter Scott memorial in Edinburgh.
Ange de la miséricorde,
O douce image du devoir.
Amy Robsart, text by Augustus Harris et Paul Milliet,
Act III, Scene II First performed 1893
Click on image to enlarge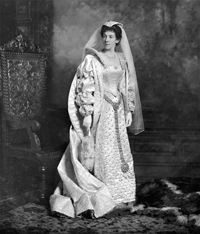 V&A Lafayette Archive
Negative number:L1386
03-07-1897