Lady Fitzgerald,
née Amelia Catherine Bischoffsheim (d 1947),
as
Marie Josephe, Queen of Poland
(AD 1737)

Lady Fitzgerald, the daughter of the fabulously wealthy banker, Henri Louis Bischoffsheim, in 1882 married Sir Maurice FitzGerald, 2nd Bt. and 20th Knight of Kerry and equerry to the Duke of Connaught.
At the Ball, she impersonated a character named as Marie Josephe, Queen of Poland (1699-1757), daughter of Emperor Joseph I of Austria and wife of Frederick Augustus III, King of Poland (also Frederick Augustus II, Elector of Saxony) by whom she had fifteen children.
The commission for the costume went to Madame Hoban, of 27a Cavendish Square, who created a gown of dark blue peau de soie, embroidered in butterfly and palmette motifs with emeralds, rubies and turquoise worn over a vest of old point d'Alençon lace. Over this Lady Fitzgerald wears a Polish coat, or kontusik, of cherry velvet, bordered with sable, with gold and jewel butterfly motifs embroidered on the sleeves. One of the longsleeves of her gown has been removed by the retouchers, perhaps to give more prominence to the scroll in her hand. The kontusik is given definition at the waist by a sash or stylized pas kontuszowy.
On her head Lady Fitzgerland sports a turban or stylized kołpak of velvet and sable in which she wears a white egrette in an emerald-studded holder. In addition to the ropes of pearls, the precious stone and diamond pendant may be a reference to the famous Dresden Green emerald which was bought by Frederick August II of Saxony in 1743.
The ensemble is an interpretation of Polish noble costume, which by the 17th century, had adopted certain elements of Crimean Turkish costume as a symbol of triumphalism.
It is tempting to conjecture that the inspiration for Lady Fitzgerald's costume was The Turkish Lovers, one of three painted turquérie panels attributed to Jean-Baptiste Huet (1745-1811) and bought by Lady Fitzgerald's father in the early 1870s for his London residence, Bute House. The panels were later transferred to the tapestry boudoir of Lady Fitzgerald's home at 16 Mansfield Street, one of London's few remaining palatial residences by Robert Adam.
Madame Hoban, like most costumiers of the time, may well have consulted Racinet's monumental six-volume illustrated Costume Historique to discover inspiration for the main attributes for Lady Fitzgerald's costume.
Of the guests of Jewish origin at the ball, almost all chose an eastern tinge to their costumes. Arthur Sassoon appeared in full turkish costume, Mrs. Leopold de Rothschild was Zobeida, and Reuben Sassoon was a Persian Prince.
Click on image to enlarge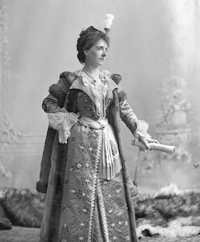 V&A Lafayette Archive
Negative number: L1479
06-07-1897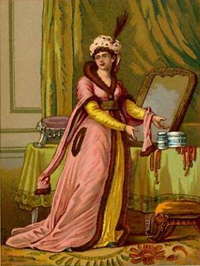 Polish noble lady from Racinet's Costume Historique.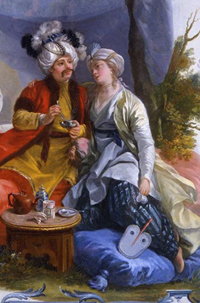 The Turkish Lovers (detail), attributed to Jean-Baptiste Huet (1745-1811)