Sir Horace Brand Farquhar,
Earl Farquhar (1844-1923),
as
"a Dutch noble or burgher"
and
Lady de Trafford,
née Violet (Alice Maud) Franklin (d 1925),
as
Semiramis, Queen of Assyria

Violet de Trafford, one of the late Victorian phenomenon termed "professional beauties" of the late Victorian and Edwardian times, which were, it was said "an age when fashions, hairdressing, and taste generally were not calculated to show off average good looks!"
The handsome Sir Horace Farquhar, a visibly very successful and rich businessman who married a banker's widow, was a lifelong friend of King Edward VII. He was greatly responsible for the reorganisation of the royal households – where he rooted out the many extravagances and anachronisms that were found to have survived from Queen Victoria's reign. Although not yet an Earl at the time of this portrait, he had already received a knighthood and in 1898 was to be made a Baron. Paradoxically, for all his outward wealth, Farquhar was found after his death to be an undisclosed bankrupt.
Farquhar, whose costume was that of a sombre Dutch nobleman, wears a jerkin of light brown cloth, appliqué with dark brown velvet and a band round the waist ornamented with gold. His costume is set off with a Rembrandt ruff and cuffs and a large broad-brimmed hat.
Semiramis, Queen of Assyria, was, according to legend, the founder of Babylon and had found her way into the western imagination in Dante's La Divina Commedia, Voltaire's tragedy Semiramis and more recently in Rossini's opera Semiramide, first performed in 1823. As a Catholic, she showed strong will in choosing this character, as Dante had placed her among the souls of the lustful in the second circle of hell, and an 1853 polemical work by a Protestant Minister, Hislop, used the legend of Semiramis in an attempt to prove that Roman Catholicism was a form of pagan worship.
Whatever her motivation, Lady de Trafford had commissioned from the London dressmaker, Mrs Mason, a costume of soft white muslin over cloth of silver, on the hem of which were embroidered typical Assyrian figures. A pale green chiffon sash hung from a curved green velvet band at the waist. The bright red velvet train was sewn with diamonds, and the head-dress had diamond chains at the sides and a diamond bird above them – a reminder that Semiramis had been portrayed as a dove by the Assyrians, and Victorian biblical exegetes chose to interpret the word dove in Jeremiah 25:38 as a reference to Semiramis.
In her obituary, one of Lady de Trafford's close friends remembered her appearance at the Ball: "…a vision of beauty, representing some Eastern queen..."
Dolce pensiero, di quell'istante,
a te sorride l'amante cor,
si, come più caro, dopo il tormento,
è il bel momento di pace, e amor.

Oh thought enchanting at such a moment
To thee I tender, my loving heart,
Behold, how much clearer after deep suffering
Is the happy moment that brings us peace and love



Rossini's

Semiramide

, Act I
text by Gaetano Rossi after Voltaire First performed 1823
Click on image to enlarge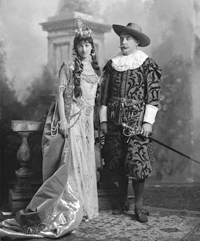 V&A Lafayette Archive
Negative number:L1523
03-07-1897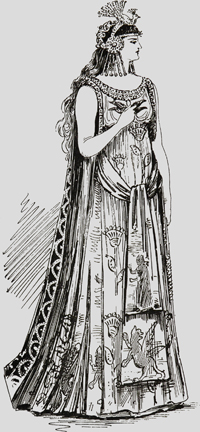 Lady de Trafford's costume was made by Mrs. Mason of Burlington Street, and was said to have been copied from a "vase at the British Museum".
The Queen, 10 July 1897