Hon Reginald Baliol Brett,
later 2nd Viscount Esher (1852-1930),
as
"a Gentleman of France"

Hon Reginald Baliol Brett was one of the guests who was not overly delighted at the prospect of dressing up for a ball.
Brett was a close friend of the Devonshires, having been in his youth a private secretary to the Duke for seven years. He began his political career in 1880 as a Liberal MP, but after five years resigned his post to become a courtier devoted to the monarchy and royal family until his death. He declined the vice regency of India preferring to retain his influential position "behind the scenes". However, his daughter Silvia became the last Rani of Sarawak, when her husband, Charles Vyner Brooke, was proclaimed Rajah in 1917.
Much respected by the Prince of Wales and later described by him as "the most valuable public servant I have", the Duke managed to keep the confidence of Queen Victoria and in his position as Secretary to the Office of Works he had special responsibility for superintending the Diamond Jubilee celebrations in 1897 and gained much respect from the Prince of Wales.
In letters to friends, the future Viscount both complains about the Ball and describes the costume which he bought from J Simmons & Sons of Haymarket, London:
"Hardly a moment to spare. I just had time to tear in and look at a black fancy dress - time 1628 - for the Ball - all black velvet and trimmed with beads, and a ruff! And long silk legs in which I suppose I shall look as big a tomfool as everybody else - or more so! The d----d Jubilee is getting very much on my nerves to-day, as there have been no alleviations in the way of funny incidents... [June 18] ... I have tried on my fancy dress. It is black with puffed short breeches, which come very high up and stick out, and long black silk tights, and a black velvet jacket and coat. I want a dagger - but I don't know where to get a good one."
Notwithstanding his grumbling about his costume, Brett is seen here in the Lafayette Bond Street studio some days after the Ball.
Click on image to enlarge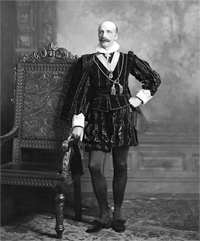 V&A Lafayette Archive
Negative number: L1529
27-07-1897