Rachel, Countess of Dudley,
née Gurney (c. 1867-1920),
as
Queen Esther

Born into a family of Norfolk bankers, Rachel Gurney's mother opened a millinery shop in London after the family's business reverses caused her father in 1866 to surrender all his possessions for the benefit of his creditors. Rachel and her sister then worked as sales assistants for the modiste, Madame Elise, which was where Adeline, Duchess of Bedford (wife of the 10th Duke), took an interest in Rachel, her cousin. "Even as a child," The Lady's Realm informed its readers, "Lady Dudley had the promise of a great beauty and that magnificent colouring which is one of her chief charms."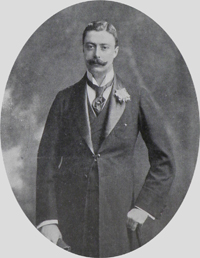 Lord Dudley, photographed by Lafayette upon his appointment as Lord Lieutenant of Ireland and published in The Queen, 16 August 1902
Thus it was that, as the adopted daughter of the Duchess, Rachel married a young millionaire mine-owner, landlord of 30,000 acres, two country houses and a palatial residence in London's Carlton Gardens. Her wedding to the 2nd Earl of Dudley in 1891 took place in the presence of Edward, Prince of Wales, who was an intimate friend of the groom's mother. After the marriage, the Earl, under the influence of his idealistic wife, "surprised his friends by the energy with which he began to attack his public duties" which included the positions of Lord Lieutenant of Ireland (1902-1905) and Governor-General of Australia (1908-1911).
The Earl and Countess were immortalized in James Joyce's Ulysses, and the Countess of Dudley's Polo challenge cup in Australia is still contested in New South Wales ninety years later. The Countess was described by the Australian Journalist Ada Holman as "beautiful as a marble statue … a carved lily", but although Rachel bore her husband four sons and three daughters, and was painted by John Singer Sargent, the Earl apparently ogled Australian woman too much – an activity referred to in the press as his 'concupiscent capers' and the couple's marriage ended in 1912. Earl Dudley, a handsome man in the Kitchener build, would marry the actress Gertie Millar (1879-1952) twelve years later.
The Countess died in Ireland, in June 1920, from a heart attack while swimming, watched helplessly by her maid on the shore.
For the Ball, the Countess chose to personify Queen Esther of biblical myth, who, unlike many of the other characters personified that evening, was admired for her courage and virtue. In her eponymous canonical book, Esther saves the Jews of Persia and was a popular subject of paintings by the Dutch, French and Italian masters of 16th and 17th centuries, but the Countess's costume appears to be one of her own creation. The Countess's choice of costume might perhaps be seen as a subliminal parallel to the story of a young and powerless woman through whose marriage into power she was able to rescue herself and her people.
Appropriate to the character, and unlike another guest Lady Maud Warrender, who as Queen Vashti was clothed in a pseudo-Assyrian costume, the Countess of Dudley wears a "Persian dress" of white crepe, thickly embroidered in real dull gold. The skirt is bordered with three lines of green embroidery, studded with amethysts, turquoises, and pearls and a clavus of solid gold tissue, encrusted with jewels, falls from the shoulders to the hem of the skirt. The same variety of jewels is also set in her gold armlets and bracelets. Her headdress consists of white and purple veils both embroidered with gold and set with a crown of gold, encrusted with precious stones. 15 large drop pearls hang over her forehead and her neck is almost completely hidden by rows of the famous Dudley pearls. She holds a peacock feather fan. The clavus bears some resemblance to that almost worn by the female character in Gustave Moreau's c.1893 painting l'Inspiration.
This image, with its background washed out is undated but the version published in the Album shows the Roman revival backdrop used in the Princess of Pless portraits and was most probably also made in December 1897.
Now it came to pass on the third day, that Esther put on her royal apparel, and stood in the inner court of the king's house, over against the king's house.
Esther 5:1
Click on image to enlarge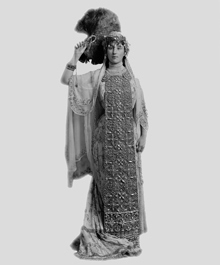 V&A Lafayette Archive
Negative number: L1469
Undated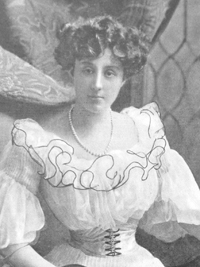 During her husband's tenure as Lord Lieutenant of Ireland (1902-1905), Lady Dudley was regarded as an elegant hostess and appeared in Country Life on 18 October 1902 in a portrait by the Lafayette Dublin studio. On 4 March 1903, the Earl and Countess held a bal poudré at Dublin Castle – "one of the most beautiful sights ever witnessed within the historic walls of Dublin Castle", according to The Queen newspaper.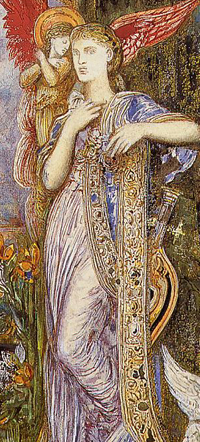 Detail from Moreau's l'Inspiration
(c. 1893) showing heavily bejewelled clavus.