Major George Frederick Myddelton Cornwallis-West
(1874-1951),
as
"a Black Slave"

George Cornwallis-West was the brother of two of the most beautiful and well-married women of the time, Princess Daisy of Pless and Constance, Duchess of Westminster.
Dressed as a black slave in the entourage of his sister Daisy, it was at the Ball that he first met his future wife, the widowed Lady Randolph Churchill who, after a period of mourning, was now said to be the 'life and soul' of the Prince of Wales's set of friends.
In his memoirs, he made no mention whatsoever of the Ball but appears to have been patriotically moved while on duty outside St Paul's Cathedral for the Jubilee Thanksgiving service when he saw Queen Victoria's carriage approach bearing 'that serene and diminutive figure who had ruled so long and so wisely over countless millions of her subjects.'
Three years later he married Lady Randolph Churchill, much against the advice of his godfather, the Prince of Wales, who deemed it an 'utterly ridiculous' match considering the twenty year age difference although many others might have seen an illegitimate son of the Prince marrying one of the same's ex-mistresses.
However, once married he found himself inexorably drawn into the Prince of Wales's inner circle of friends. Although he later complained that his wife had no concept of money, as a gentleman at the epicentre of lavish Edwardian society, 'he was led into an extravagance he could ill afford.' Jennie was a very expensive wife for a man of modest means, as George himself wrote: "In money matters she was without any sense of proportion," and as George's biographer pointed out "there were as always plenty of amusing ways of losing money and Jennie and George neglected few of them."
Understandably their marriage did not survive many years and in April 1914 the marriage as dissolved and George married the actress Stell ("Mrs Patrick") Campbell.
In old age, rather than undergo the later stages of Parkinsons' disease, he shot himself.
In contrast to the costume of his sister, Princess Daisy of Pless, Cornwallis-West seems to have made no great effort with his costume, which was most probably ordered for him by his sister. He himself described it disparagingly as a 'multi-coloured quilt', and finding it humiliating to be 'blacked up' and sidelined as a slave, he stayed at the party just long enough to take part in the procession before the royal guests and to be photographed in the photographer's tent - after which he left the party.
Click on image to enlarge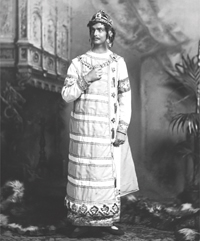 V&A Lafayette Archive
Negative number: L1495
03-07-1897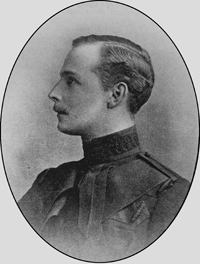 Photograph of George by the Lafayette Dublin branch, published in The Queen on the occasion of his wedding to Lady Randolph Churchill in August 1900.