Madame von André, née Mary Alice Palmer,
later Baroness Wedel Jarlsberg (1859-1941),
as
Desdemona

The American-born wife of Monsieur von André appeared often in the social columns of The Times – both as an accomplished lady golfer and an opera-lover.
It was perhaps her love of music, rather than her knowledge of Shakespeare, and the fact that Verdi's recent opera Otello (first performed 1887) had met with enormous international success, that inspired her to clothe herself as the tragic heroine Desdemona, killed by the Moor, Othello, on suspicion of infidelity.
The von Andrés mixed in the world of opera and entertained some of the great names, including the great composer Mascagni, Lady de Grey and Sir Paolo Tosti. Madame von André also appears to have been on good terms with the cream of the opera-going crowd, her presence in the royal box at Covent Garden to hear Madame Melba in Rigoletto in 1891 having been noted – in the company of the Countess of Dudley, Lady de Grey and, of course, the Prince and Princess of Wales. Madame von André's dress, although extremely operatic with its dramatically large renaissance climbing flower design, was supplied by the Paris couturier Paquin and was made of turquoise-blue velvet appliqué on cream satin.
After the death of her husband, Baroness von André in 1916 married as his second wife Frederik ("Fritz") Hartvig Herman, Baron Wedel Jarlsberg, the ambassador of the new kingdom of Norway to France. The couple lived in Paris until the Nazi invasion, at which point they moved to Lisbon where she passed away in 1941.
Tu dêi saper che Desdemona è il Duce
Del nostro Duce, sol per essa ei vive

Our general's wife, as thou full well must know,
Is now our general's general, he her servant .
Verdi's

Otello

, Act II,
libretto by Arrigo Boito
First performed 1887
Click on image to enlarge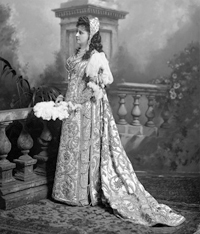 V&A Lafayette Archive
Negative number: L1337
July 1897
.