Monsieur Adolf von André (1844-1911),
as
Benvenuto Cellini

An enormously wealthy financier and venture capitalist with mainly railway interests in Spain, Australia, USA and the Philippines, von André was a friend of many British and continental royal personages. He appears to have made his fortune in Hong Kong where he had been appointed Consul of Austria. He and his wife settled in London in 1882, where, as well as his financial interests (in the firm of André, Mendel and Co.) he was also a director of the couturiers Paquin and Maison Virot. Perhaps due to his financing power, both he and his wife were frequent visitors to the British court and their arrivals and departures from Britain were noted in the Court Circular columns of The Times.
Von André's choice of character for the Ball, Benvenuto Cellini (1500-1571), was the Italian Renaissance artist, Benvenuto Cellini (1500-1571), who was the most renowned goldsmith of his day, active in Italy and France. He also wrote a famous autobiography describing his various exploits and amorous adventures.
In the 19th century, the life of Benvenuto Cellini was the subject of at least two ballets and nine operas, including Hector Berlioz' Benvenuto Cellini (1838) and Camille Saint-Saëns' Ascanio (1890). Costumes for this latter production were designed by the Czech art nouveau artist, Alfonse Mucha.
The costume worn by the great French bass, Pol Plançon, for the Saint-Saëns opera bears great similarity to that worn by von André. Made by the London theatrical costumier, M. Alias of Soho Square, it consisted of a brown velvet jerkin with crimson slashes and a pink silk vest slashed with grey satin. Topping it off is a low-crowned cap, the brim slashed and puffed with crimson and embroidered gold.
Just behind von André's left foot is the base of the neck clamp – a device which held the photographer's subject still in the era of long exposure times. It was the job of the photographer's retouching department to remove any visible photographic paraphernalia from negatives, which may indicate that this negative was not printed.
Fittingly, von André who was the tenant of the château de Longchamp, died suddenly on the racecourse there in 1911, and was interred in the Père Lachaise cemetery.
Although the negative of this and that of his wife bear the inscriptions 'Baron von André' and 'Baroness von André, all published sources found to date, including the Album, list him and his wife as Mr and Mrs von von André.
Click on image to enlarge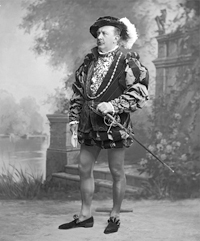 V&A Lafayette Archive
Negative number: L1457
14 July 1897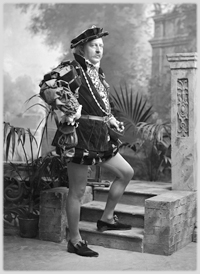 V&A Lafayette Archive
Negative number: L1459
14 July 1897
.