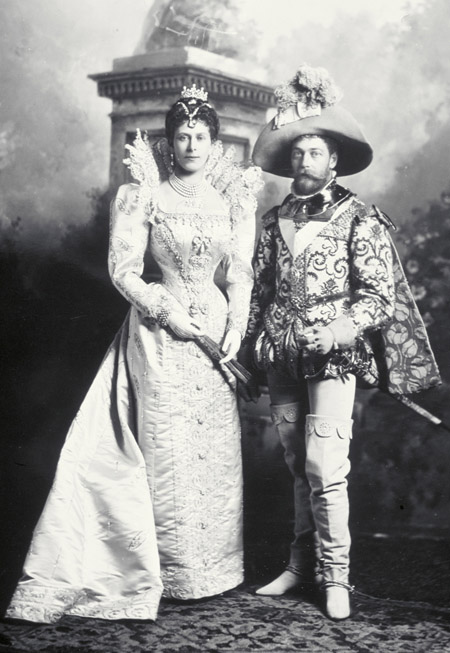 Duke of York,
later King George V
(1865-1936);
as "The Queen's Champion"
Duchess of York,
later Queen Mary
(1867-1953)
as "a Lady at the Court of Marguerite de Valois"
Married in 1895, George became heir to the throne upon the death of his brother the Duke of Clarence in 1892 and Princess Mary of Teck (daughter of Princess Mary and Duke Francis of Teck) who had been his fiancée was passed on to George.
Notwithstanding the inauspicious genesis of their union, the couple were, according to all accounts, deeply devoted to each other throughout their lives, preferring the simplicity of fidelity and the family hearth to the fast living exemplified by George's father, Edward, Prince of Wales and his own son, the future short-reigning King Edward VIII.
For the Ball, the Duke of York is costumed as "The Queen's Champion" in the Elizabethan procession. The costume, by Monsieur Alias, is very closely modelled on a 1590 portrait by the miniaturist Nicholas Hilliard of George Clifford, 3rd Earl of Cumberland (1558-1605) - the champion of Queen Elizabeth I, who played an important part in the destruction of the Spanish Armada and was first Governor of the East India Company. The Duke himself was a navy man and had been married wearing the uniform of a naval captain.
Monsieur Alias, the renowned London theatrical costumier, ensured that the press had detailed costume descriptions for publication informing history that the Duke wears a pourpoint and sleeves of Genoa velvet cisele embroidered with gold. His trunks are crimson velvet embroidered gold over grey satin. The high grey suede boots are rolled down at the top and in his grey felt hat he wears the a copy of the jewelled glove given to Cumberland by Queen Elizabeth I. The uncomfortable-looking steel gorget was lined with gold.
The Duchess, in the entourage of Alexandra, Princess of Wales, was robed as a Lady at the court of Marguerite de Valois, a choice most probably influenced by the popularity of Meyerbeer's opera Les Huguenots and the fact that the Princess of Wales needed six contemporaneous ladies in her entourage. For the role, the Duchess wears a blue satin dress, embroidered with silver, with a high wired lace collar studded with diamonds.
Among the identifiable jewels adorning the costume and the person, and showing the future Queen's incipient appreciation of jewellery, are the 'Girls of Great Britain and Ireland' tiara, diamond and drop pearl earrings, a five-row pearl necklace with the 'Warwick' sun brooch attached as pendant; the 'Ladies of England' pearl and diamond necklace, a baroque pearl and diamond brooch, a diamond stomacher, the 'Kensington' bow brooch; the 'Dorset' bow brooch and diamond and pearl bracelets attached to the the cuffs.