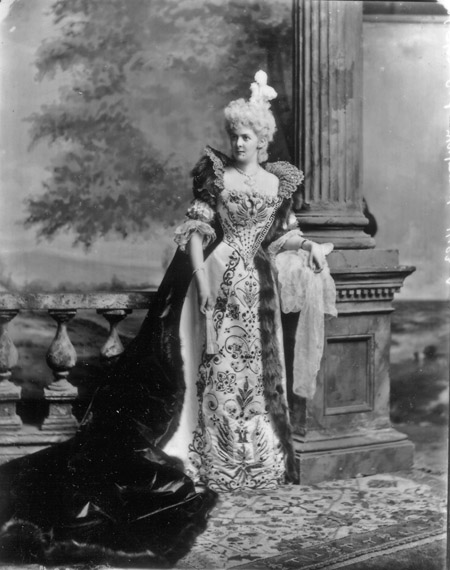 Marcia Amelia Mary,
Countess of Yarborough
(1863-1926)
née Lane Fox
as Madame Choglokov
A relative of the Empress Elizabeth of Russia, Madame Choglokov (1724-1756) was appointed Grande Maîtresse with special responsibility for spying on the Grand Duchess Catherine (later Catherine the Great). She also fell under the spell of another courtier, Prince Piotr Ivanovitch, and the two of them carried on a secret love affair for years.
The future Catherine the Great wrote, upon Madame Choglokov's appointment as her governess: "Had (the Empress and Grand Duke) known a more malicious creature, she would certainly not have received the post."
For her character in the imposing "Queen Catherine Quadrille", the Countess of Yarborough commissioned the couturier Mrs Nettleship of London to make a white satin gown, upon which the Russian double-headed eagle is embroidered with emeralds, eagles and scrolls "copied from an old picture."
The emerald green train is of velvet lined with gold and edged with sable. She wears a high collar of gold lace embroidered with emeralds and diamonds, with ostrich feathers and a diamond aigrette in her hair.
This image was made on the Countess's second visit to the Lafayette studio, on 26 July, when it appears the studio finally achieved the combination of pose, backdrop and props which she found suitable for publication in the Album.