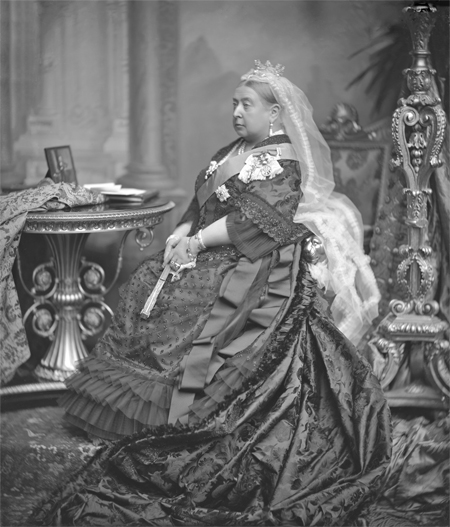 Queen Victoria
(1819-1901)
The Queen Empress dressed only in black after the death in 1861 of her beloved Prince Consort, born Prince Albert of Saxe-Coburg and Gotha. In this image, Queen Victoria faces a small framed photograph of the Prince Consort - a standard device in all images of her during her widowhood.
In this portrait, made for her Golden Jubilee in 1887, the Queen wears Court dress - a bodice and train of black silk damask, tulle overskirt, edged with ruffles and embroidered with jet.
Preparations for the Diamond Jubilee of 1897 started six years earlier at which time the Queen threatened to cancel the celebrations should she be forced to contribute to the costs. The Queen's preference prevailed and the Diamond Jubilee Celebrations were paid for from public funds.
The Queen took little part in the Empire-wide celebrations of her reign. Whether she was indeed too frail to attend the Duchess of Devonshire's costume ball is an academic question, as the Queen disapproved heartily of London society with its fast ways. She even referred to members of her own extended family as the "royal mob" when they gathered in numbers.
Her son and heir, Edward, Prince of Wales and his wife, Alexandra represented the Queen at the Ball.