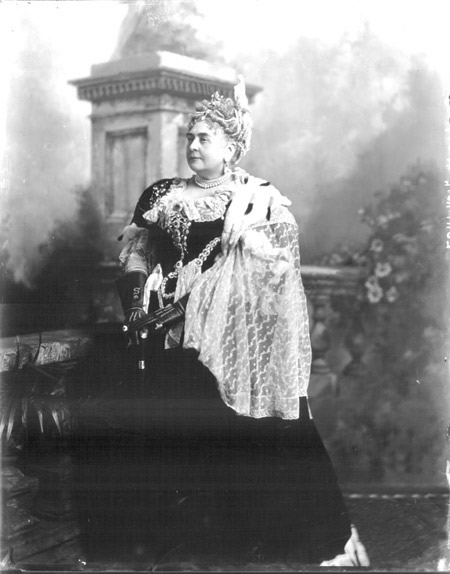 Princess Mary Adelaide,
Duchess of Teck
(1833-97)
as Princess Sophia, Electress of Luneberg and Hanover (1630-1714)
Granddaughter of King George III and first cousin to Queen Victoria, the hard-spending Princess Mary Adelaide was educated from her youth in the history of her Hanoverian ancestors.
After giving birth to four children, including the future Queen Mary (seen at the Ball while still the Duchess of York), Princess Mary devoted herself to charitable associations and was often seen selling goods at bazaar stalls.
At the time of the Ball, she was known to the poor of the East End of London as "Fat Mary" and was termed "England's most popular princess." Queen Victoria explained away her cousin's celebrity with one of her typically sharp comments: "The mob like fat people!"
Typical of her sense of fun, she prepared for the Ball even though she had recently been operated on for peritonitis. She died four months later.
Her role at the Ball is that of her great-great-great-grandmother, who was from the dynasty which preceded the ruling Saxe Coburg and Gothas. In 1705 the English Parliament passed the "Act for the Naturalization of the Most Excellent Princess Sophia, Electress and Duchess Dowager of Hanover, and the Issue of her Body" to ensure that the throne would pass to Protestant Hanoverian hands and not to the Catholic Old Pretender. Sophia's son, George, who was the 52nd in line to the English throne but the closest Protestant, became the first Hanoverian king of England. This union of Hanoverian and British crowns ended with Queen Victoria's eventual accession in 1837.
The costume consists of a gown of velvet, described variously as brick-red and burnt-yellow. The full skirt is attached to the hips with two rows of large pearls and is trimmed with ermine. The low bodice has a frill of point d'Alençon lace and rows of ermine fastened by collarette of diamonds and pearls. A lace cape is draped over one shoulder and attached to the hair. Around the neck are five rows of pearls and and the hair is decorated with diamonds and further rows of pearls.
The costume, made by Madame Fréderic of London, was reported to be "an exact copy of a miniature engraving at Hampton Court."
This image was made in the photographer's tent at the Ball.