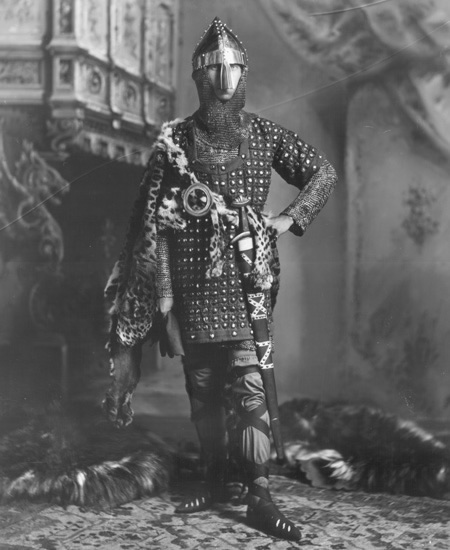 Hereditary Prince Alfred of Saxe Coburg Gotha
(1874-1899)
as "Duke Robert of Normandy, AD 1060"
The only son of Queen Victoria's second son, Prince Albert had been sent off for a German education in Potsdam by his anglophobe mother, Grand Duchess Marie of Russia, as soon as her husband was named heir to the duchy of Saxe-Coburg-Gotha. This did not improve his character, as his sister, the Crown Princess Marie of Romania, noted in her diary:
"Alfred was always getting into trouble... and Mamma, hoping to find perfection, was often disappointed in her son."
Almost a 'Germanised' stranger to his family, and beyond parental supervision, he fell into what was termed bad ways and contracted syphilis.
Hardly a year after this image was made, Prince Alfred made a visit to his sister in Sinaia, Romania. Marie found him "pale and emaciated... his young life wasting away... He hardly recognizes anyone and often does not know what he says, poor boy."
In 1899 at the time of his parents' silver wedding celebrations in Coburg he was sent by his mother to Meran in the Tyrol to recover from 'nervous depression' - actually a self-inflicted gunshot wound after an argument with his parents. He died less than a fortnight later with his death being officially noted to have been caused by 'chronic cerebral affection'.
After Alfred's death some sources claim that his father never spent another night under the same roof as his mother.
For the Ball, Alfred chose to represent Duke Robert of Normandy, son of William the Conqueror who led the Normans in their conquest of England in 1066. The costume appears to be inspired by the type of uniforms seen in the Bayeux tapestry. Alfred even wears an authentic conical Norman helmet with steel nose-protector - not an obviously comfortable choice of headgear for a party! The choice of role possibly reflected his mother's antipathy to all things English.