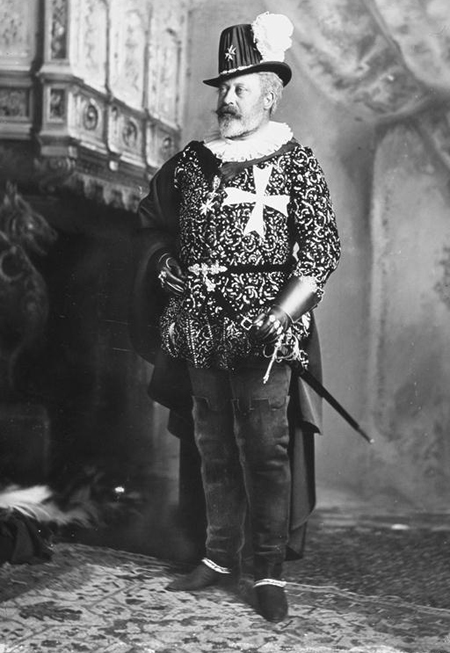 Edward, Prince of Wales,
later King Edward VII
(1841-1910)
as Grand Master of the Knights Hospitallers of Malta
Albert Edward (Bertie), as he was known until he succeeded to the throne, in 1897 was in the unfortunate position of being 56 and still prevented by his mother, Queen Victoria, from playing any role in state affairs.
She initially held the shock and horror felt upon the discovery of his romance with an Irish actress in 1861 responsible for the death of her beloved husband Prince Consort. She despised the life her son and his fast friends led in the "Marlborough House set", which was named after Edward's residence in London. For all the misgivings expressed about his capabilities and morals by the press upon his accession, he proved to be not only a popular, but also a dutiful and wise monarch.
The Prince's costume as Grand Master of the Knights Hospitallers of Malta, was made by the theatrical costumier, Monsieur Alias of Soho Square.
Much less elaborate than some of the other guests' costumes, the prestige of the Prince of Wales meant that almost every published report described his clothing in minute detail, from the pourpoint of black epingle velvet, richly embroidered in steel, embroidered with rubies and beads of steel and jet, with passementarie of jet - to the bejewelled cross-handled sword, and the jewelled cross of Malta and Order of the Garter round his neck.
The Templars would have been familiar to Edward's contemporaries from the Sir Walter Scott's 1819 novel Ivanhoe and Sir Arthur Sullivan's grand opera of the same name - at whose first performance in 1891 the Prince of Wales was present.
As the royal pair were the last to arrive at the Ball, and were then shown to a dais from which they observed the various processions of guests entering the saloon of Devonshire House, this image must have been made in the photographer's tent in the small hours of the morning - well after the Prince's favourite bedtime of half-past midnight.
Glory to those who battle for the Cross,
And most to those, the bravest and the best,
Wonder of land and sea, of east and west,
Knights of the Holy Order of the Temple.
Sir Arthur Sullivan, Ivanhoe, Act I, libretto by Julian Sturgis