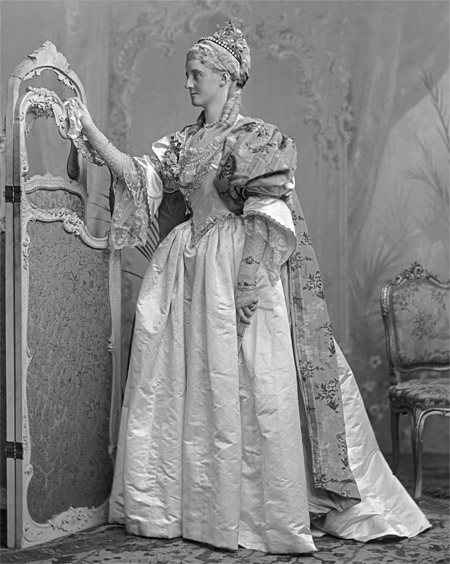 Lady Rose Leigh
later Countess of Cottenham,
née Nevill
(1866-1913)
as the Duchesse de Villars
At the time of the Devonshire House Ball, the Rose, daughter of the 1st Marquess of Abergavenny, had been married for ten years to John Blundell Leigh, a county deputy lieutenant.
For the Devonshire House Ball, Lady Rose Leigh chose to impersonate the "Duchesse de Villars, time of Louis XV."
The press seemingly found Lady Rose's costume fetching in the extreme, as intricately detailed descriptions of it were published:
The long pointed bodice and full skirt were in rich ivory satin; the bodice and quaint bell sleeves outlined in old Louis XV embroidery, in the finest gold sequins, and bullion thread interspersed with small rose tinsel flowers. A lovely old scarf, in real Rose du Barry brocade, was suspended with old diamond buckles from the right shoulders, and was carried gracefully draped over the left arm, hanging in a long hem on to the skirt.
The Countess also carries an 18th-century style fan, possibly made by the London firm of Duvelleroy.
Two years later the Leighs were divorced and in a highly unusual act the 4th Earl of Cottenham, in the same year, married Rose. She bore him three sons and was an excellent shot but after only 14 years of marriage was found dead after an apparent hunting accident. At the inquest, her brother stated that "she was in the habit of carrying her gun carelessly."
This image was made in the Lafayette studio one month after the Ball. As well giving the sitter as the unnaturally marble-like texture of the face, the chin has also been considerably trimmed by the retouching department.