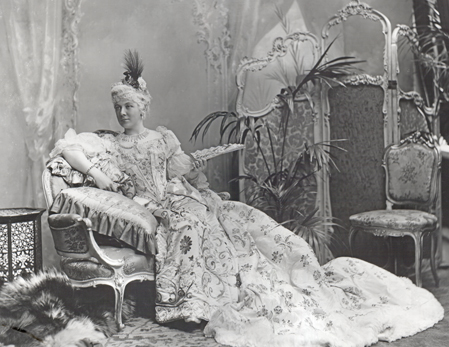 Georgiana, Viscountess Curzon,
née Spencer-Churchill
later Countess Howe
(1860-1906)
as Queen Maria Leszczynska of Poland
The fifth of six daughters of the 7th Duke of Marlborough, Georgina Spencer-Churchill married in 1883 Richard George Penn Curzon-Howe, 4th Earl Howe. Their only child and son Francis Richard Penn Curzon, 5th Earl Howe, took up motor racing later in his life and became one of Britain's best known drivers.
Georgina's husband came to the Ball dressed as his famous ancestor, Admiral Richard Howe (1726-1799).
Although it might have appeared more suitable for his wife to accompany him to the Ball as Mary Hartopp, the Admiral's spouse, it was Georgina's mother-in-law who acted the role! Georgina dressed herself as Queen Maria Leszczyńska (1703-1768), wife of King Louis XV of France and daughter of the dethroned Polish King Stanisław Leszczyński.
Her choice of costume was perfectly matched by Lafayette, who equipped his studio with a fitting roccoco background and props, when she sat for him three days after the Ball to have her portrait made for the Devonshire House Ball's commemorative album. There is no record of who made her spectacular dress with its complicated floral embroideries and encrustations of pearls. The future Countess also wears a stunning diamond fringe tiara, set at a jaunty angle and inset with an black egret feather and and equally beautiful diamond fringe necklace.
The Howe couple enjoyed the intimate friendship of King Edward VII and Queen Alexandra, and entertained them on many occasions at their country seat, Gopsall Hall in Leicestershire, and at Curzon House in London. During the King's last visit, Lady Howe was already gravely ill. She insisted, however, upon being wheeled to the dinner table in an invalid chair in order that the august guest might enjoy the society of his hostess.
Countess Howe died after a long illness on 9 February 1906.