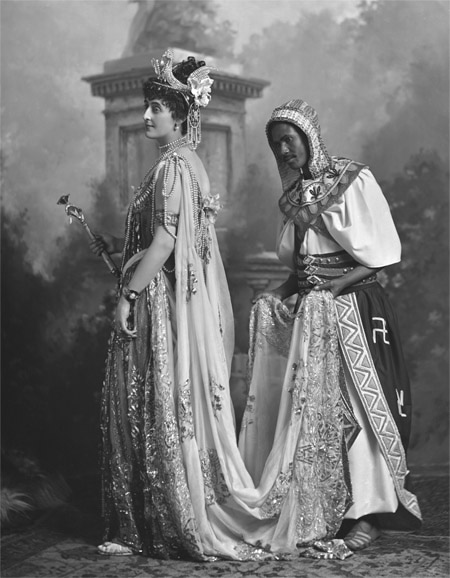 Gladys, Countess de Grey,
later Marchioness of Ripon,
née Herbert
(d 1917)
(and Arab Slave)
as Cleopatra
As one of the few women who "dazzled every London drawing-room" with her wit, good looks and energy, Lady de Grey played perfectly the Edwardian double-role of respectable aristocrat and private enchantress.
She was one of the first grand ladies to have a telephone installed in her London residence when she realised that its use removed the risk of discovery inherent in love notes. Servants could overhear, but their word carried no weight!
In public, she played a large part in the rejuvenation of the opera scene in London and counted the soprano Dame Nellie Melba, the Russian ballet impresario Sergei Diaghilev, the operatic de Reszke brothers and the Russian ballet dancer Vaslav Nijinsky among her friends - something next to scandalous at the time.
Lady de Grey was also famed for her house parties where she managed to invite beautiful ladies whose husbands were engaged elsewhere and vice-versa. So bold was she in her love affairs that in her hey-dey she placed photographs of her lovers on the mantelpiece.
For the Ball, Lady de Grey spent "not less than $5,000" in Paris on her costume. Whether inspired by the lavishness of Sarah Bernhardt's costume, when she played Sardou's Cleopatra on the London stage in 1892, Lady de Grey knowingly chose to represent a character who was the embodiment of the easy sensuality portrayed by the great French Orientalist painters, particularly Gustave Moreau.
Her costume is a robe of gold and silver tissue thickly encrusted with jewels. Her hair is crowned by a large diamond ibis, with pearls twisted in her hair and hanging down in ropes down her neck. The positioning, both of Lady de Grey and her slave, is an obvious reference to Van Dyck's 1623 portrait of Marchesa Elena Grimaldi.
Unlike the two other ladies who went to the Ball as Cleopatra, Lady de Grey was the only one whose slave formed an intrinsic part of her costume.
This photograph taken on the night of the Ball shows very clearly the workings of the impromptu photographic studio set up in the garden of Devonshire House with the Countess and her "slave" standing in front of the stretched canvas backdrop.
Là tout n'est qu'ordre et beauté
Luxe, calme et volupté.
Charles Beaudelaire
,
L'Invitation au Voyage
, 1853