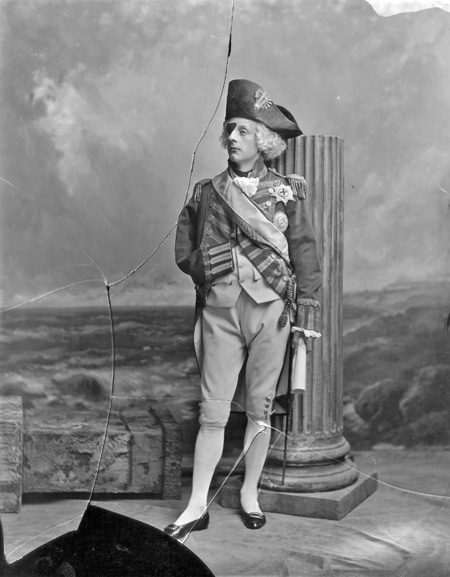 Hon William Reginald Fitzwilliam
(1862-1906)
as Admiral Lord Nelson (1758-1805)
The Hon William Reginald Wentworth Fitzwilliam was the youngest child of 6th Earl Fitzwilliam. When in 1894 his father paid off his debts and that of his wife (amounting respectively to the enormous amounts of £4,000 and £10,000), his allowance was cut back to £1,200 p.a. Believing that his trustees would bail him out again in the future, he and his wife kept living beyond their means.
Unrepentantly and indicative of the ideology of the leisured class, in his own words to the bankruptcy court in 1900, he stated that he "had never been engaged in any business or had any profession or occupation, and lived on an allowance from his father" .
For the Ball, he impersonated Admiral Lord Nelson (1758-1805) - one of the greatest naval heroes in British history. In this image, which appears to be based on the 1800 portrait by Lemuel Francis Abbot (at the time in the Greenwich Hospital), Fitzwilliam stands, scroll in hand, in front of a truncated Corinthian column against a seascape backdrop (which was adapted for the Lady Wolverton as Britannia portrait).
The Westminster Gazette described his appearance as "a very realistic Nelson, arm and eye wanting, as in the original."
On his hat, he wears a theatrical representation of the diamond Chelengk (Order of the Crescent) awarded to Nelson by the Ottoman Sultan Selim III after the Battle of the Nile in 1798.
He leads: we hear our Seaman's call
In the roll of battles won;
For he is Britain's Admiral
Till setting of her sun.
George Meredith (1828-1909), Trafalgar Day