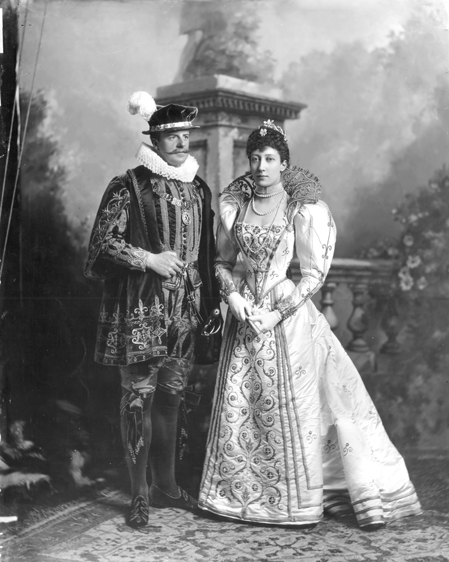 Princess Louise,
Duchess of Fife
(1867-1931);
Alexander William George Duff,
1st Duke of Fife
(1849-1912)
'in costume of period of Henry II' (1519-1559)
The eldest daughter of Edward and Alexandra, Prince and Princess of Wales (later King Edward VII and Queen Alexandra), Princess Louise had the unenviable fortune to be the plain daughter of an extremely beautiful mother. She and her sisters, due to their innate shyness, were referred to by their relatives as "the Whispering Wales girls," and it was thought that they might never escape the shadow of "the world's prettiest mama".
In their early twenties, prospects of a marriage for Louise were dim as her mother stated plainly to her father that she found her two daughters "such good companions that she would not encourage them marrying, and that they themselves had no inclination for it." Louise's eventual marriage to the much older politician, banker, landowner and commoner, also caused her grandmother, Queen Victoria, some unease as the succession would run through her and her commoner husband - should any mishap come to the heir to the throne.
The couple claimed to be "in costume of period of Henry II [of France]." During the processions the Princess with her two sisters were in the entourage and the shadow of their mother in her Marguerite de Valois role.
The Duke's costume, made by Monsieur Alias, the famous theatrical costumier of London, gave him "the character of a stately courtier." The costumier must have released details to the press, as newspapers of the time give the most detailed descriptions of the indigo-coloured outfit with its silk slash-work. The Duke wears over the doublet his own Order of the Thistle (a venerable Scottish Order which had been revived by English monarchs).
The Princess's costume was praised as "very effective" by the newspapers. Her ivory satin dress is ornamented with thickly massed flowers and conventional foliage, raised from the surface in gold bouillon with diamond ornaments. The lace on her high gold collar and cuffs is of gold. She also wears a six-row pearl choker and in her hair a diamond diadem and diamond ornament.
This image was made in the photographer's tent at the Ball and was reproduced in the Ball Album as well as in illustrated newspapers of the day.