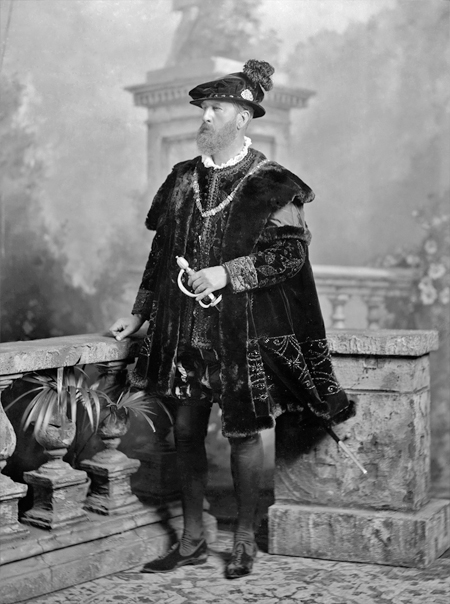 Spencer Compton Cavendish
8th Duke of Devonshire
(1833-1908)
as Emperor Charles V (1500-1558)
Known for his lethargy and his scandalous affair with an actress called Skittles, the Duke finally married the widowed Duchess of Manchester in 1892 after having conducted a decades-long affair with her.
The Duke was a man of simple tastes who famously exclaimed in the House of Commons: "The proudest moment of my life was when my pig won first prize at Skipton fair."
The owner of five palaces, the Duke and Duchess and their entourage moved around the country following the hunting and social seasons. However he did not let his schedule be interrupted by his wife's mammoth scheme for the costume ball to end all balls, and he played no part in the organization.
The Duke clothed himself for the Ball as Emperor Charles V who ruled an empire "in which the sun does not set" stretching in non-contiguous blocks from Spain almost to the Black Sea as well as territories in the New World.
Bearing an uncanny facial resemblance to the Emperor, the Duke's costume is modelled after the portrait by Titian. He wears a fur-edged surcoat of black velvet lined satin with sleeves puffed at the shoulders. The surcoat ended in a fur cape with a scalloped, black beaded embroidered pattern on the end. His black Genoa velvet doublet is embroidered with tiny jet black beads and his black silk trunks are slashed with white satin. The duke also wears the black Chain and Order of the Golden Fleece around his neck and carries a sword in a black leather scabbard. The costume was expertly carried out by the theatrical costumier, Monsieur Alias of Soho Square.
Carlo il sommo imperatore
Non è più che muta polve:
Del celeste suo fattore
L'alma altera or trema al piè.
Verdi's Don Carlo, Act I, Scene I,
text by Joseph Méry and Camille Du Locle
(first performed 1867)