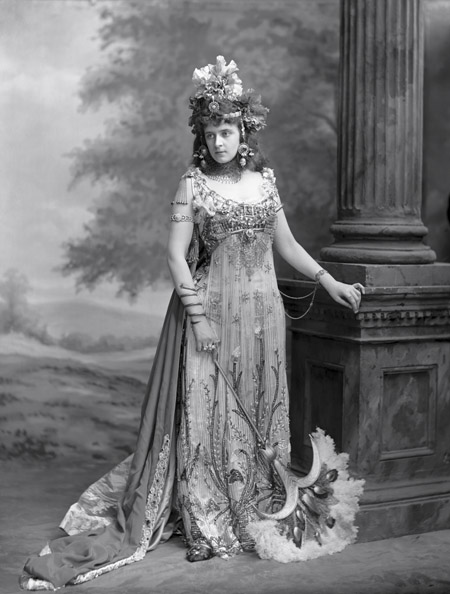 Hon Mrs Algernon Bourke
(1870-1967)
née Guendoline Irene Emily Sloane-Stanley
as Salammbô
Hon Mrs Algernon Bourke née Guendoline Irene Emily Sloane-Stanley in 1887 married Hon Algernon Henry Bourke, 3rd son of 6th Earl of Mayo (Viceroy of India) and the owner of White's - a debonair gentleman's club in St. James's, London.
Two years before this portrait she and her husband had been gently caricatured in print as the two main characters of Oscar Wilde's The Importance of Being Ernest.
The 1863 novel by Flaubert, Salammbô about the daughter of a Carthaginian general in the period of the Punic Wars, which inspired many paintings and sculptures, included a scene where in a semi-trance she sheds her clothing and dances with a python. Mrs Bourke's snake bangle is most probably a reference to this scene which had long been considered shocking. In the late 1860s the Countess de Castiglione had only been allowed in to a ball at the Tuileries as the improper Salammbô (dressed by Worth of Paris) due to her position as Napoleon III's mistress.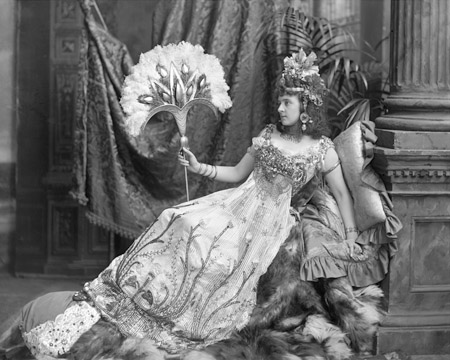 Two days after the Ball Mrs Bourke went to the Bond Street studio to be photographed in a variety of poses and against different backdrops - including the vamp-like reclining pose.
Her imposing costume, made by Mrs Mason of New Burlington Street, London, was a gown of white and silver gauze, embroidered with lotus flowers. The top of the gown was appliqué with old green satin embroidered in blue, turquoise and gold and studded with rubies.
The costume bears great similarity to that worn by the Belgium soprano, Rose Caron, who had created the title role in Ernest de Reyer's opera Salammbô which was produced with the great barbaric splendour, so loved at the time, in 1890 at the Théâtre de la Monnaie in Brussels.
In this reclining louche pose, Mrs Bourke borrows heavily from the femme fatale studies of British actresses of the 1880s.
Mrs Bourke must have been satisfied with her personification as she wore the costume again for a 'grand tableau vivant and musical burlesque' at Blenheim Palace in January the following year.
"The white light seemed to envelop Salammbô like a silver mist, her wet footprints glistened on the floor, stars shimmered in the depths of the water; the serpent tightened round her its black coils striped with golden patches. Salammbô gasped beneath this weight, too heavy for her, her back bent, she felt she was dying; and with the tip of its tail it gently flicked her thigh; then as the music ceased, it dropped down again."
Gustave Flaubert, Salammbô