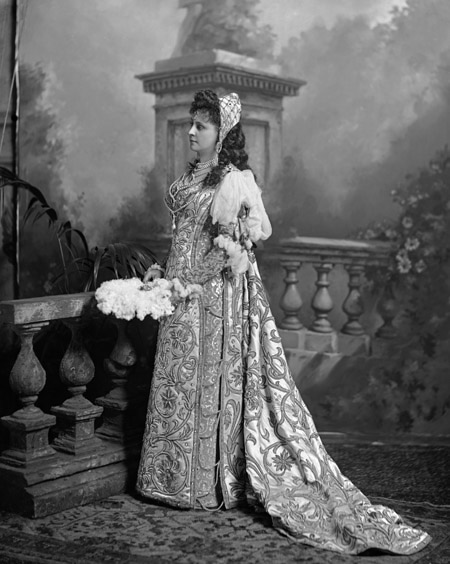 Baroness von André,
née Mary Alice Palmer,
later Baroness Wedel Jarlsberg
(1859-1941)
as Desdemona
The American-born wife of Baron von André appeared often in the social columns of The Times - both as an accomplished lady golfer and an opera-lover.
It was perhaps her love of music, rather than her knowledge of Shakespeare, and the fact that Verdi's recent opera Otello had met with enormous international success, that inspired her to clothe herself as the tragic heroine Desdemona, killed by the Moor, Othello, on suspicion of infidelity.
Her dress, although extremely operatic with its dramatically large renaissance climbing flower design, was supplied by the Paris couturier Paquin and was made of turquoise-blue velvet appliqué on cream satin.
After the death of her husband, Baroness von André in 1916 married Frederik ("Fritz" ) Hartwig Hermann, Baron Wedel Jarlsberg, the ambassador of the new kingdom of Norway to France. The couple lived in Paris until the Nazi invasion, at which point they moved to Lisbon where she passed away in 1941.
Tu dêi saper che Desdemona è il Duce
Del nostro Duce, sol per essa ei vive
Verdi's Otello, Act II,
libretto by Arrigo Boito
First performed 1887