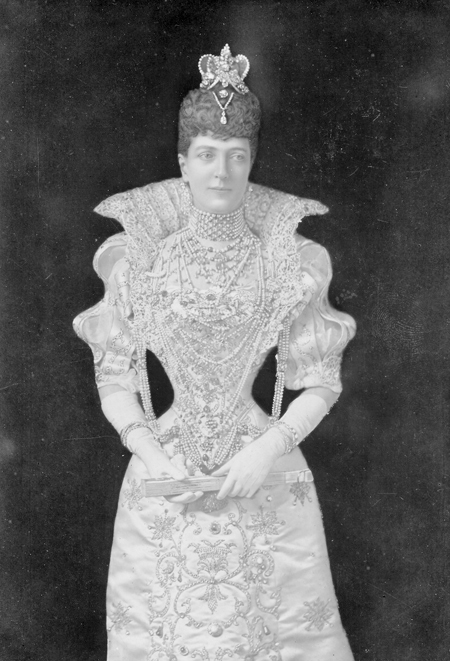 Alexandra, Princess of Wales,
later Queen Alexandra
(1844-1925)
as Marguerite de Valois
Born Princess of Denmark to parents who also produced a king of Greece and an empress of Russia, Alexandra was considered a great beauty in Britain. Her presence created instant devotion with the general public as well as members of her own family.
The infant Princess Marie of Edinburgh (later Queen of Romania) remembered her first sight of her aunt: "She [Alexandra] came down one day at tea-time in a marvellous red velvet robe with long flowering train. She dazzled me utterly, I was speechless with adoration."
Wife of the serially philandering Edward and the centre of the Marlborough House set, which was singularly un-Victorian in its dedication to fun and pleasure, Alexandra turned a deaf ear to the goings-on around her husband and was even gracious to his mistresses at the time of his death.
As the head of the Marguerite de Valois court at the Ball, Alexandra's costume bears great similarity to those worn by her daughter Princess Louise and the other ladies of her suite and, taken with the fact that Alexandra disapproved of spending great amounts on robes, this could indicate that they were made by one of the London theatrical costumiers rather than an expensive couturier.
The image, however, shows the massive amounts of jewellery that the Princess wore on public occasions and in many of her portraits. The pearl choker around her neck became a fashion, but not many could compete with the diamond ornaments, swag after swag of pearls or the small crown of diamonds hung with a clasp.
This image was made in the photographer's tent at the Ball. The princess sat for at least two portraits at the Ball, both of which had their backgrounds exchanged by the retoucher and were variously printed as cabinet cards and published in the Album.